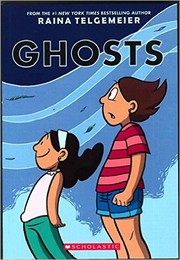 FIC TEL
Ghosts
New York, NY : Graphix, an imprint of Scholastic, 2016.
239 pages : illustrations (chiefly color) ; 21 cm.
Having moved to the coast of Northern California for the sake of her little sister, Maya, who has cystic fibrosis, Cat is disappointed to learn that her new town is inhabited by ghosts, while Maya sets her heart on meeting one.
Available
Graphic Novel
1 copy available at West Noble Elementary
| | |
| --- | --- |
| ISBN: | |
| ISBN: | |
| LC Call No: | PZ7.7.T45 Gh 2016 |
| Dewey Class No: | |
| Author: | |
| Title: | |
| Edition: | First edition. |
| Physical: | 239 pages : illustrations (chiefly color) ; 21 cm. |
| ContentType: | |
| ContentType: | |
| MediaType: | |
| CarrierType: | |
| Notes: | Chiefly illustrations. |
| Summary: | Having moved to the coast of Northern California for the sake of her little sister, Maya, who has cystic fibrosis, Cat is disappointed to learn that her new town is inhabited by ghosts, while Maya sets her heart on meeting one. |
| Subject: | |
| Subject: | |
| Subject: | |
| Subject: | |
| Subject: | |
| Link: | |
| Field | Ind | Subfield | Data |
| --- | --- | --- | --- |
| 001 Control No | | | 628456 |
| 005 LastTransaction | | | 20170829121016.0 |
| 008 Data Elements | | | 160208s2016 nyua c 6 000 0 eng c |
| 010 LCCN | | $a Record content licensor | 2016004672 |
| 020 ISBN | | $a ISBN | 978-0-545-54062-9 (pbk.) : |
| | | $c Terms of availability | $10.99 |
| 020 ISBN | | $a ISBN | 978-0-545-54062-9 (pbk.) : |
| | | $c Terms of availability | $10.99 |
| 035 System Ctrl No | | $a System control number | (NjBwBT)bt2016022079 |
| 035 System Ctrl No | | $a System control number | (DLC) 2016004672 |
| 040 Cataloging Src | | $a Original cataloging agency | NJQ/DLC |
| | | $b Language of cataloging | eng |
| | | $e Description conventions | rda |
| | | $c Transcribing agency | NJQ |
| | | $d Modifying agency | NjBwBT |
| 042 Authentication | | $a Authentication code | lcac |
| | | $a Authentication code | pcc |
| 043 GAC | | $a Geographic area code | n-us-ca |
| 050 LC Call No | 00 | $a Classification number | PZ7.7.T45 |
| | | $b Item number | Gh 2016 |
| 069 | | $a | 08369512 |
| 082 Dewey Class No | 04 | $a Classification number | 741.5/973 |
| | | $2 Edition number | 23 |
| 090 | | $a | 741.59 TEL |
| 100 ME:PersonalName | 1 | $a Personal name | Telgemeier, Raina, |
| | | $e Relator term | author, |
| | | $e Relator term | artist. |
| 245 Title | 10 | $a Title | Ghosts / |
| | | $c Statement of responsibility | Raina Telgemeier ; with color by Braden Lamb. |
| 250 Edition | | $a Edition statement | First edition. |
| 264 ProductnNotice | 1 | $a Place of prod/dist/manuf. | New York, NY : |
| | | $b Name of prod./pub./dist./man. | Graphix, an imprint of Scholastic, |
| | | $c Date of prod/dist/manuf/copyrt | 2016. |
| 300 Physical Desc | | $a Extent | 239 pages : |
| | | $b Other physical details | illustrations (chiefly color) ; |
| | | $c Dimensions | 21 cm. |
| 336 ContentType | | $a Content type term | text |
| | | $2 Source | rdacontent |
| 336 ContentType | | $a Content type term | still image |
| | | $2 Source | rdacontent |
| 337 MediaType | | $a Media type term | unmediated |
| | | $2 Source | rdamedia |
| 338 CarrierType | | $a Carrier type term | volume |
| | | $2 Source | rdacarrier |
| 500 General Note | | $a General note | Chiefly illustrations. |
| 520 Summary | | $a Summary, etc. note | Having moved to the coast of Northern California for the sake of her little sister, Maya, who has cystic fibrosis, Cat is disappointed to learn that her new town is inhabited by ghosts, while Maya sets her heart on meeting one. |
| 650 Subj:Topic | | $a Topical term | CRC |
| | | $c Location of event | 2017-2018 |
| 650 Subj:Topic | 7 | $a Topical term | Sisters |
| | | $v Form subdivision | Fiction. |
| | | $2 Source of heading or term | sears |
| 650 Subj:Topic | 7 | $a Topical term | Cystic fibrosis |
| | | $v Form subdivision | Fiction. |
| | | $2 Source of heading or term | sears |
| 650 Subj:Topic | 7 | $a Topical term | Moving |
| | | $v Form subdivision | Fiction. |
| | | $2 Source of heading or term | sears |
| 650 Subj:Topic | 7 | $a Topical term | Family life |
| | | $z Geographic subdivision | Northern California |
| | | $v Form subdivision | Fiction. |
| | | $2 Source of heading or term | sears. |
| 651 Subj:Geog | 7 | $a Geographic name | Northern California |
| | | $v Form subdivision | Fiction. |
| | | $2 Source of heading or term | sears. |
| 655 IT:Genre | 7 | $a Genre/form data or focus term | Ghost stories. |
| | | $2 Source of term | sears |
| 655 IT:Genre | 7 | $a Genre/form data or focus term | Graphic novels. |
| | | $2 Source of term | sears. |
| 852 Holdings | 1 | $p Barcode | 36510001196498 |
| | | $9 Cost | $10.99 |
| | | $a Location | WNE |
| | | $h Classification part | FIC TEL |
| 852 Holdings | 1 | $p Barcode | 36510001196506 |
| | | $9 Cost | $10.99 |
| | | $a Location | WNE |
| | | $h Classification part | FIC TEL |
| 852 Holdings | | $a Location | WNE |
| | | $h Classification part | FIC TEL |
| | | $p Barcode | 36510001553383 |
| | | $9 Cost | $9.00 |
| 852 Holdings | | $a Location | WNE |
| | | $h Classification part | FIC TEL |
| | | $p Barcode | 36510001553375 |
| | | $9 Cost | $9.00 |
| 852 Holdings | 1 | $h Classification part | GN 741.597 TEL |
| | | $p Barcode | 36509005759152 |
| | | $9 Cost | $20.00 |
| | | $a Location | WNMS |
| 852 Holdings | 1 | $h Classification part | GN 741.597 TEL |
| | | $p Barcode | 36509005759160 |
| | | $9 Cost | $10.99 |
| | | $a Location | WNMS |
| 852 Holdings | | $a Location | WNMS |
| | | $h Classification part | GN 741.597 TEL |
| | | $p Barcode | 36509005759145 |
| | | $9 Cost | $10.99 |
| 852 Holdings | | $a Location | WNE |
| | | $h Classification part | PB GN TEL |
| | | $p Barcode | 36510001554100 |
| | | $9 Cost | $9.00 |
| 852 Holdings | | $a Location | WNMS |
| | | $h Classification part | GN 741.597 TEL |
| | | $p Barcode | 36509005476914 |
| | | $9 Cost | $20.00 |
| 856 ElectronicLocat | 4 | $3 Materials specified | Cover image |
| | | $u Uniform Resource Identifier | https://covers.openlibrary.org/b/id/7888940-M.jpg |
Editorial Reviews