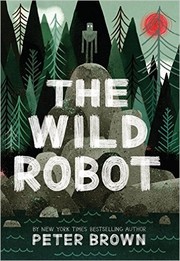 FIC BRO YHBA 18-19
The wild robot
New York ; Boston : Little, Brown and Company, 2016.
279 pages : illustrations ; 20 cm.
When robot Roz opens her eyes for the first time, she discovers that she is alone on a remote, wild island. She has no idea how she got there or what her purpose is - but she knows she needs to survive. Her only hope for survival is to adapt to her surroundings and learn from the island's unwelcoming animal inhabitants. As Roz slowly befriends the animals, the island starts to feel like home - until, one day, the robot's mysterious past comes back to haunt her.
Reading Counts: Level 4.5 3-5 / 9. Points
Lexile: 740L
Available
West Noble Elem Hardbacks
1 copy available at West Noble Elementary
| | |
| --- | --- |
| ISBN: | |
| LC Call No: | PZ7.B81668 .Wil 2016 |
| Dewey Class No: | |
| Author: | |
| Title: | |
| Edition: | First edition. |
| Physical: | 279 pages : illustrations ; 20 cm. |
| ContentType: | |
| MediaType: | |
| CarrierType: | |
| Citation/Refs: | Junior Library Guild |
| Summary: | When robot Roz opens her eyes for the first time, she discovers that she is alone on a remote, wild island. She has no idea how she got there or what her purpose is - but she knows she needs to survive. Her only hope for survival is to adapt to her surroundings and learn from the island's unwelcoming animal inhabitants. As Roz slowly befriends the animals, the island starts to feel like home - until, one day, the robot's mysterious past comes back to haunt her. |
| Target Audience: | |
| Target Audience: | |
| Target Audience: | |
| Study Program: | |
| Awards Note: | A Junior Library Guild selection (JLG) |
| Subject: | |
| Subject: | |
| Subject: | |
| Subject: | |
| Subject: | |
| Subject: | |
| Subject: | |
| Subject: | |
| Subject: | |
| Subject: | |
| Subject: | |
| Subject: | |
| Subject: | |
| Subject: | |
| Subject: | |
| Link: | |
| Field | Ind | Subfield | Data |
| --- | --- | --- | --- |
| 001 Control No | | | 628089 |
| 005 LastTransaction | | | 20190816100857.0 |
| 008 Data Elements | | | 160503s2016 nyua c 000 1 eng |
| 010 LCCN | | $a Record content licensor | 2015021094 |
| 020 ISBN | | $a ISBN | 978-0-316-38199-4 (hardcover) : |
| | | $c Terms of availability | 15.80 |
| 035 System Ctrl No | | $a System control number | 18793692 |
| 040 Cataloging Src | | $a Original cataloging agency | DLC |
| | | $b Language of cataloging | eng |
| | | $e Description conventions | rda |
| | | $c Transcribing agency | DLC |
| 042 Authentication | | $a Authentication code | pcc |
| | | $a Authentication code | lcac |
| 050 LC Call No | 00 | $a Classification number | PZ7.B81668 |
| | | $b Item number | .Wil 2016 |
| 082 Dewey Class No | 00 | $a Classification number | [Fic] |
| | | $2 Edition number | 23 |
| 092 | | $a | F Brown |
| 100 ME:PersonalName | 1 | $a Personal name | Brown, Peter, |
| | | $d Dates associated with a name | 1979-, |
| | | $e Relator term | author. |
| 245 Title | 14 | $a Title | The wild robot / |
| | | $c Statement of responsibility | words and pictures by Peter Brown. |
| 250 Edition | | $a Edition statement | First edition. |
| 264 ProductnNotice | 1 | $a Place of prod/dist/manuf. | New York ; |
| | | $a Place of prod/dist/manuf. | Boston : |
| | | $b Name of prod./pub./dist./man. | Little, Brown and Company, |
| | | $c Date of prod/dist/manuf/copyrt | 2016. |
| 300 Physical Desc | | $a Extent | 279 pages : |
| | | $b Other physical details | illustrations ; |
| | | $c Dimensions | 20 cm. |
| 336 ContentType | | $a Content type term | text |
| | | $2 Source | rdacontent |
| 337 MediaType | | $a Media type term | unmediated |
| | | $2 Source | rdamedia |
| 338 CarrierType | | $a Carrier type term | volume |
| | | $2 Source | rdacarrier |
| 510 Citation/Refs | 3 | $a Name of source | Junior Library Guild |
| 520 Summary | | $a Summary, etc. note | When robot Roz opens her eyes for the first time, she discovers that she is alone on a remote, wild island. She has no idea how she got there or what her purpose is - but she knows she needs to survive. Her only hope for survival is to adapt to her surroundings and learn from the island's unwelcoming animal inhabitants. As Roz slowly befriends the animals, the island starts to feel like home - until, one day, the robot's mysterious past comes back to haunt her. |
| 521 Target Audience | 1 | $a Target audience note | Ages 8-10. |
| 521 Target Audience | 2 | $a Target audience note | Grades 3-5. |
| 521 Target Audience | 8 | $a Target audience note | 740L |
| | | $b Source | Lexile. |
| 526 Study Program | 0 | $a Program name | Reading Counts |
| | | $b Interest level | 3-5 |
| | | $c Reading level | 4.5 |
| | | $d Title point value | 9. |
| 586 Awards Note | | $a Awards note | A Junior Library Guild selection (JLG) |
| 650 Subj:Topic | 0 | $a Topical term | Animals |
| | | $v Form subdivision | Juvenile fiction. |
| 650 Subj:Topic | 0 | $a Topical term | Friendship |
| | | $v Form subdivision | Juvenile fiction. |
| 650 Subj:Topic | 0 | $a Topical term | Islands |
| | | $v Form subdivision | Juvenile fiction. |
| 650 Subj:Topic | 0 | $a Topical term | Robots |
| | | $v Form subdivision | Juvenile fiction. |
| 650 Subj:Topic | 0 | $a Topical term | Survival |
| | | $v Form subdivision | Juvenile fiction |
| 650 Subj:Topic | 1 | $a Topical term | Animals |
| | | $v Form subdivision | Fiction. |
| 650 Subj:Topic | 1 | $a Topical term | Friendship |
| | | $v Form subdivision | Fiction. |
| 650 Subj:Topic | 1 | $a Topical term | Islands |
| | | $v Form subdivision | Fiction. |
| 650 Subj:Topic | 1 | $a Topical term | Robots |
| | | $v Form subdivision | Fiction. |
| 650 Subj:Topic | 1 | $a Topical term | Survival |
| | | $v Form subdivision | Fiction |
| 650 Subj:Topic | 7 | $a Topical term | Animals |
| | | $v Form subdivision | Fiction. |
| | | $2 Source of heading or term | sears |
| 650 Subj:Topic | 7 | $a Topical term | Friendship |
| | | $v Form subdivision | Fiction. |
| | | $2 Source of heading or term | sears |
| 650 Subj:Topic | 7 | $a Topical term | Islands |
| | | $v Form subdivision | Fiction. |
| | | $2 Source of heading or term | sears |
| 650 Subj:Topic | 7 | $a Topical term | Robots |
| | | $v Form subdivision | Fiction. |
| | | $2 Source of heading or term | sears |
| 650 Subj:Topic | 7 | $a Topical term | Survival |
| | | $v Form subdivision | Fiction |
| | | $2 Source of heading or term | sears. |
| 852 Holdings | | $a Location | WNE |
| | | $h Classification part | FIC BRO YHBA 18-19 |
| | | $p Barcode | 36510001329586 |
| | | $9 Cost | $17.00 |
| 852 Holdings | | $a Location | WNE |
| | | $h Classification part | FIC BRO YHBA 18-19 |
| | | $p Barcode | 36510001008222 |
| | | $9 Cost | $17.00 |
| 852 Holdings | | $a Location | WNE |
| | | $h Classification part | FIC BRO YHBA 18-19 |
| | | $p Barcode | 36510001008230 |
| | | $9 Cost | $17.00 |
| 856 ElectronicLocat | 4 | $3 Materials specified | Cover image |
| | | $u Uniform Resource Identifier | https://covers.openlibrary.org/b/id/7443270-M.jpg |
Editorial Reviews